Talon Carver
Over the summer I've been busy developing some new additions to the fantastic Talon collection. The Talon chair with it's taut, poised form continues to capture the imagination of those that have sat upon her. Now after many requests, I'm delighted to introduce the Talon Carver. There is a certain status in sitting at the head of the table and the Talon Carver assumes that position very well.
With simple semi cantilevered arms supported only by the thinnest of zinc plated and patinated steel rods, the chair is extremely strong, durable and robust. The solid FSC American Black Walnut frame remains the same with the arms being the only addition to the standard side chair design, which means there is an efficiency in production and tooling. The fabrics have been selected for durable use but I'm also happy to produce with customers own fabric upon request.
Talon Round Card Table
To compliment a recent private penthouse project, I was commissioned to design and produce a card table that would fit into the Talon family. I thought it would be fitting to include four drawers for the various paraphernalia used in playing games. The bullnose routed groove that runs around the parameter of the top ensures dice and other such articles do not roll off the edge, also creating a convenient dip for your thumb in order to slide your cards over and gently lift the edge.
The round table could of course also be used as a dining table or breakfast table, the handy deep pocket like drawers can swallow and hide away table settings and place mats perfectly.
Talon Credenza
The largest arrival to the Talon family is this very elegant and useful Talon Credenza media cabinet in solid FSC American Black Walnut. The credenza features beautifully the sand cast recycled aluminium Talon leg detail as feet, re-proportioned carefully to fit this handsome piece of storage. Sliding doors in alternating zinc patina and walnut allow your knick-knaks to be hidden away. This is the largest at 2.2 meters wide although I will be making a small size and possibly also a medium option to follow soon.
Three drawers with sand cast aluminium handles are discretely placed on either side, there is also shelving in the centre with hidden cable access at the rear.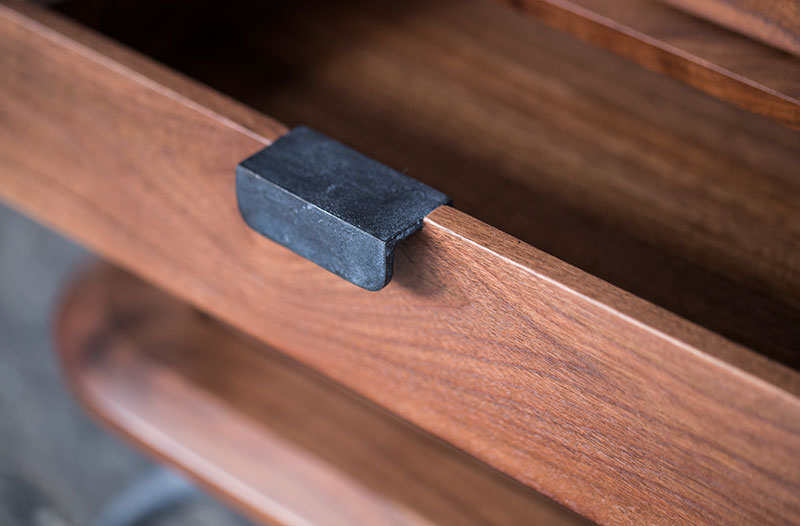 Geometric Marble Coffee Table
Introducing a new size and finish patina for the Geometric Tables.
After a very successful launch at the International Furniture Fair Singapore, I have been very happy with the response to the Geometric Occasional Tables in solid marble and recycled sand cast aluminium. In Singapore I launched the product as an archipelago of various small geometric shaped tables in two heights, the bases being in either a choice of matt pink, white or black. Here you can see images of the new and incredibly smart bronze patina finish, this will bring a touch more gravitas to your living room, or even your hotel project for that matter.
Geometric Marble Occasional Tables
I am also happy to note that we have just shipped out our first major production run of this Geometric Marble collection to our retail customers including, ABC Home in New York, Norhor in Beijing, Shanghai and Hangzhou, Reeves Design at Sohome in Seoul Korea and Republic Home in Auckland, New Zealand. I encourage you to enquire and order yours as soon as possible whilst stocks last. I've included some pictures in the pastel pinks and whites with the fresh creamy white Volakas marble tops, they look good enough to eat.
If you have any images of projects using REEVESdesign products then I'd be very happy to receive a copy to john@reevesd.com

Thank you.

John Reeves.