Tongue chairs are playful, comfortable and have a charming elegance that's full of character.
Compound curves are wrapped with plump padding and stitched aniline leather* upholstery complete with a single button detail that pays homage to the notional heritage of the leather chair. The intention was to create a
chair that captures a soft contrast to hard edges and upon completion of the first sample, the form itself gave way to the name Tongue.

The classic example in black and oxblood utilises a specially developed oxblood red aniline leather on the seat and backrest that protrude from a deep black noire aniline leather band that wraps around the rear circumference, locking the tongue backrest component in place. The slightly contoured shape to the tongue and moulded lower wrap help swallow up the sitter in a snug embrace.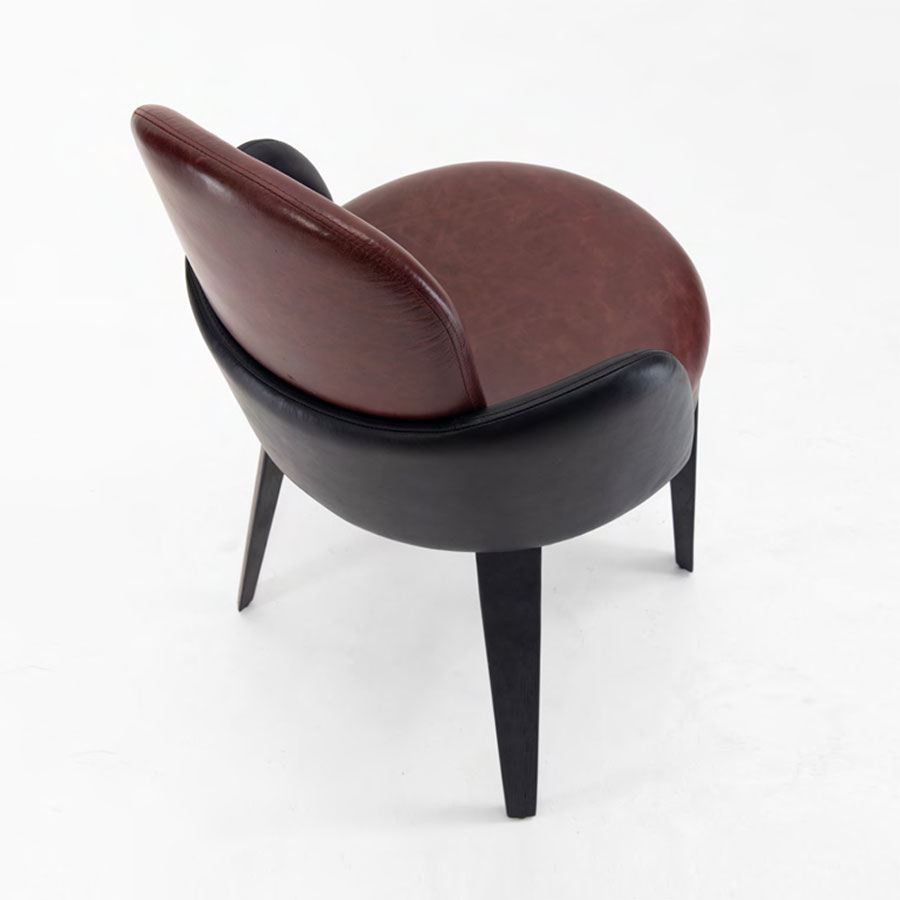 In the design process of the Tongue chair, we worked very closely with our leather suppliers to develop a beautiful, natural grain aniline leather with a slight wax and crust effect that enhances the touch and lustre of the surface without making it too shiny. Aniline leather means the natural aesthetic qualities of the hide are still visible, this is genuine leather and we want it to be recognised as such. In addition to a variety of leathers, we have a beautiful selection of Belgian Linens from Libeco and we are also happy to work with customers own material (COM) should your project require.
Blackened, strong solid oak legs taper away from a stretcher that is moulded around the circular, domed seat base. This reduces the weight of the frame and the visual taper lightens the overall aesthetic without compromising stability.
A picture taken from above in our studio shows how well the chair complements the Sketch Dining Table in black lacquer. Fluid curves of the cast aluminium are reinforced by the sumptuous lines of the Tongue chair.
The large 2 meter x 1 meter Sketch dining table is right at home with the Tongue chairs; deep black noire leather coordinates well with the deep gloss black of the lacquer.
As an alternative to the contrasting black noire and oxblood red leather chairs on blackened oak frame we also developed our white wash oak frame with tan brown leather. This is a beautiful combination that shows with considered material and hue selection a whole new vibe and setting can be met.
With years of experience in upholstery our manufacturers have an exquisite attention to detail.
The classic tan brown leather brings out the slight warmth of the timber grain in the white wash oak.
Aniline tan brown leather reveals the natural markings of genuine leather, this high quality leather will burnish and age very nicely over time.
Of course we couldn't release a chair called Tongue without having a bit of tongue in cheek in the presentation. "After living in Asia for over 15 years I have seen many a Chinese Dragon Dance, so when I saw the tongue like form of the chair, I picked it up to my head and rocked it over my shoulders and did a little dragon dance which the photographer snapped up. Hopefully this auspicious little moment will bring great joy, luck and pleasure to all who take a seat."
"I hope you continue to enjoy receiving the Reeves Design newsletter which has always intended to be a window into the inspirations that go into each design. However at this current time when it is impossible to make and attend exhibitions in a physical way or even go to showrooms and shops, it has become an essential platform and direct link between our product, brand and customers.

I encourage you to reach out with any projects and dreams that may align with our values and vision as we are still operating, producing and creating. I trust we can harness shared motivation, enthusiasm and more enjoyable considered ways to explore culture and ideas; in doing so continue to evolve designs that look towards a bright future."

John Reeves