Singapore IFFS 2019, thank you.
We came, we set up and we launched.

Thank you to all those that were able to come along and join us at the Reeves Design stand during the International Furniture Fair Singapore (IFFS) 2019.

This year the IFFS changed its location from the Expo near Changi airport to the new Marina Bay Sands Convention Centre. The tone of the show shifting more towards a focused and curated event; a confident move which crystallised its values in a celebration of quality and design without compromise. A show that, much like Singapore itself, although modest in size was premium in design intent, and ultimately a show in which we were very happy to be a part of once again, this being our 6th year.

The exceptional world class venue was located in one of the most futuristic spots you could hope to visit as I've tried to show in these images : above, a glimpse of Gardens by the Bay and below the corkscrewing Helix DNA bridge designed by Arup and Marina Bay Sands iconic hotel, photos by John Reeves).
Showcasing the new product for 2019, we were able to really make the space breath by utilising the very effective Pinlock Steel shelving system which allowed for clear presentation of the new Talon Slot chairs and clear the floor for the all new Bento sofa series and Talon Slot dining table set.

In addition to this regular newsletter we will contact each and every one that shared interest in the designs, however as a reminder for those that came and an update for those that couldn't here are some pictures from our booth and a brief description of the products that we launched.
Just as famous chef Marco Pierre White said that his favourite meals are quite simply "...food you want to eat..." ; at Reeves Design we aim to create timeless, honest contemporary furniture that "you want to live with". Product that is restrained but with character, designs that articulate the dream of a boutique hotel, the vision of an iconic restaurant, or the reassurance of a comfortable home.
Talon Slot Collection

Continuing the important tenet of Reeves Design that "form follows process", the Talon Slot collection is an exercise in reduction, a simplification of the highly successful Talon range. Designed to utilise a standard timber thickness of leg and components allowing for efficient CNC cutting and finger jointing. This gives a fantastic form that is cut from a series of components along a flat plane that slot together like a puzzle. The Talon Slot collection so far includes the Talon Slot cabinet, dining table, dining chairs and bar chairs shown here in in a variety of timbers, fabrics and leather, more options are available in this highly versatile, strong and contract ready range.
We launched the product in both oak and walnut and also presented a mixture of the two for a playful and contrasting touch. Here we can see various Belgian linen's from Libeco as well as a choice of leathers which are used to upholster the seats and back rests . We see this as an excellent entry level collection with the intention to introduce our unique curves to a broader demographic of customers and their uses.
Victoria Occasional Tables in Solid Wood

The Victoria occasional tables (console, coffee and side tables) were originally designed for British wallpaper and fabric company Osborne & Little with juicy lacquered colour tops. This year we launched in sustainably sourced FSC timbers as a more subtle and durable option although the lacquer options are still available upon request.
Available in either FSC American Black Walnut or American white oak, the tops and legs simply and directly lock together with a pleasing integrated jointing system as shown below.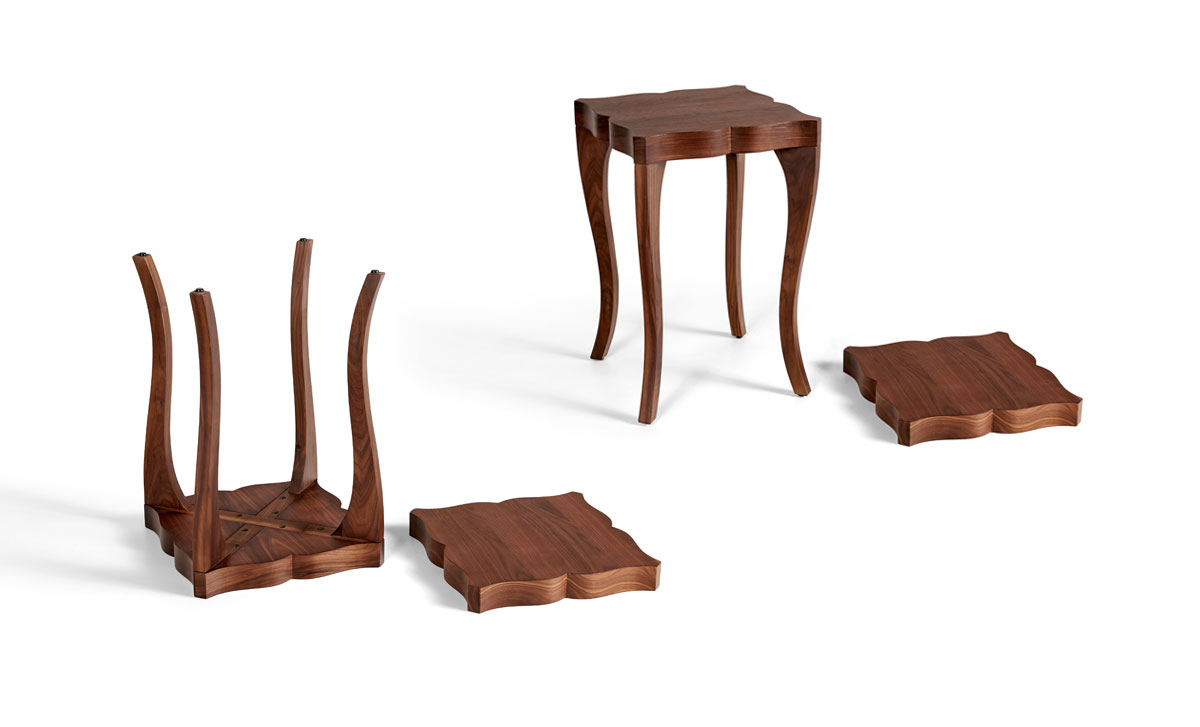 Talon Slot Cabinet

As part of the new additions this year we also launched the Talon Slot cabinet, a light and functional solid wood cabinet that sits very well along side the Pinlock shelving and Talon slot chair shown below.
The Talon Slot Cabinet is CNC cut from flat planes of solid oak or walnut that slot together like a puzzle to create this sweet and practical cabinet. Complete with 2 removable tray drawers; the custom made polka dot hinges add 4 charming punctuation marks. Sweeping curves allow for a touch of theatre and provide a striking silhouette that has both a nod towards heritage whilst resolutely maintaining our fresh & modern look. A further detail on the concave front edge of the top provides an overlap for the rather pleasing and semantic bullnose cut handle.
Talon Slot Dining Table

Shown below is the designer, John Reeves sat on a walnut Talon Slot chair against the new Talon Slot dining table in oak.

Also shown, Pinlock shelving tower in oak & walnut, Talon Slot Chairs and Talon Slot dining table (description below).
Currently the largest design from the new Talon Slot range, the Talon slot dining table once again utilises the CNC to machine cut the top enabling accurate and precise gentle sweeping concave curved edges. This creates a highly inviting yet functional and strong table, available as square bistro size, square dining size, 6 seater and 8 seater - please enquire for further details.
The Talon Slot collection is available in Walnut and Oak, other options are available upon request. Shown below, Talon Slot dining table in oak, Talon Slot dining chairs in solid oak and tan brown leather.
Perhaps a typical dining scene shown with the Love Candelabrum in solid sand cast recycled aluminium, a familiar totem of Love and brightness in the Reeves collection that can resonate in any home or establishment.
Pinlock Shelving System (new configuration for 2019)
Pinlock Shelving, new configurations and shelf spacing for optimum versatility. Quickly create a library nook or partition a room with our Pinlock shelving system. Inspired by the engineering excellence found in the Pandrol rail clip.
Now the brass pinlock can connect the shelving towers together in a straight line, T, L, Z or + shape (see diagram).
Bento Lounge & Sofa Series

The Bento Sofa series has been developed as our first major foray into soft furnishings. This is a modular sofa set that is designed to be quite simply a block of comfort. Plush & plump over-stuffed cushions enhance the supreme comfort of this versatile sofa system.
The name derives from the often decorative Japanese Bento box which are compartmentalised to neatly fit various foods including rice, sashimi and vegetables. Here the simple shell frame cradles the large seat and back cushion, whilst smaller bite-size scatter cushions and bolster sit snugly on top.
Single seat lounge, 2 seater sofa, 3 seater if sofa and lounge put together; finally an L sectional can be created with 2 sofas and a lounge.
The frames are hand made by experienced craftsmen, constructed in solid wood, webbing and sprung metal for stability and durability. The feet are available in either our natural oak, natural walnut or black oak finishes; also a variety of leathers and fabrics are available for upholstery. Please enquire about producing with customers own material.
Cast Outdoor Collection
Designed in 2008 and launched in Milan 2009, the Cast collection has been enjoyed on a truly international level. This year we have collaborated with Sunbrella and Quick Dry Foam to make the cushions and upholstery for the lounge set, chair seats and sun lounger. There is an amazing variety of patterns and fabrics available through Sunbrella, please contact for more details.
Cast in solid recycled Aluminium with zinc patina finish & FSC teak slats, the feel of the frame has a touch like a washed river pebble, eroded over time. Designed to age sympathetically with the elements, the teak will silver as it settles into its outdoor habitat (or indoor).
New for 2019 we launch the Cast Sun Lounger with 4 adjustable back positions. Cast in recycled aluminium and FSC teak wood slats, this sun lounger can be placed by the pool or by the beach. Finished in our new faux zinc finish for hardy outdoor durability whilst still maintaining the beautiful patina. Cushions are available, please enquire for upholstery options in Sunbrella fabric and Quick Dry Foam.
Talon Zinc Bistro Set

The Talon Zinc Bistro table and Talon Zinc side chair come together to form a very elegant and organic outdoor (or indoor) bistro set for the home or commercial setting. Sand cast in 100% recycled aluminium and zinc patina, topped with FSC sustainably sourced teak wood. Representing our continued mission to design and produce timeless product that's built and designed to last.
Pinlock Steel

The Pinlock Steel presentation shelves have been developed as part of our campaign to bring high quality furniture to market. Therefore we have designed and made an oversized version of the highly functional and practical Pinlock shelving for showcase presentation and sales purposes. Each tower has a 1 meter square footprint and can lock together quickly to make a wall display or partition and divide a large space. Very strong, stable and fits together with sturdy machine bolts - comes as knock down.

Please enquire for pop-up event use, or if you would like to use in your retail shop then we can offer at a complementary rate for all container orders.
Machine made in box section steel with a tough matt powder-coat in either black or white. Drop in square shelves are in matt laminate to match. Pinlock fittings in the signature brass plate steel.

Finally below, please see some images from around the booth this year.
As mentioned above, we will contact each and every one that shared interest in the designs. Thank you once again if you were able to make it down to see us in Singapore, otherwise I hope this newsletter helps give a glimpse of the exciting new developments from Reeves Design.

Please don't hesitate to contact for design and product enquiries.

John Reeves.